Positioning and Mobility Needs 
When it comes to long-term care seating cost, it's tempting to look for the cheapest option. Conversely, quality should be the key factor of consideration. 
In 2014, the U.S. Census Bureau reported that nearly 40 percent of seniors have at least one disability.1
About two-thirds of seniors have trouble with mobility1, and many of them reside in nursing facilities because of their dependence on durable medical equipment (DME).
Over 80% of residents of nursing facilities spend time sitting in a wheelchair every day.2
In 2016, the Centers for Medicare and Medicaid Services awarded a total of more than $6.7 billion in funding for wheelchairs and similar equipment.3
Wheelchairs and other mobility equipment are critical to the overall health and quality of life for long-term and complex care environments. This equipment helps avoid being perpetually bed-bound or dangerously resigned to basic furniture. These "solutions" can be shockingly unsafe for the unique needs of this disabled population.
Unfortunately, healthcare providers and users can have differing views when it comes to the value of DME. Facilities might choose basic positioning wheelchairs or geriatric chairs instead of higher quality tilt wheelchairs because they are "good enough", even if they don't last as long. To some providers, these simple chairs represent a bargain, albeit a dangerous one, that could have significant financial and care consequences.
What's the Difference? 
When closer examined beyond initial cost, these "good enough" chairs are not good enough for the actual patients and caregivers who rely on them. Given the choice, users opt for something that offers better options for positioning, maneuvering, seating, accessories, and other quality-of-life necessities.
Functionality
Regarding functionality, individuals who can self- propel with their hands need chairs with mag wheels that they can easily push. Those who can self-propel using their feet require low floor-to-seat height so they can pedal easily.
Altogether, the improved comfort, functionality, and durability that a high-quality wheelchair offers more than makes up for any price discrepancies. Top-tier chairs help facilities meet their long-term financial needs while promoting optimal health and mobility for residents.
Cost
Seemingly low costs make geriatric positioning chairs popular choices, but inferior products eventually cost much more than the initial payment.
For example, a typical geriatric chair might only cost $1,000, which is admittedly less than an investment in a positioning chair from Broda. But when you have to replace the chair once every year (after its warranty expires), it could easily cost an additional $4,200 over the years. This is expensive compared to the purchasing a Broda wheelchair. Broda wheelchairs would remain clinically operational and under warranty over the same period of time.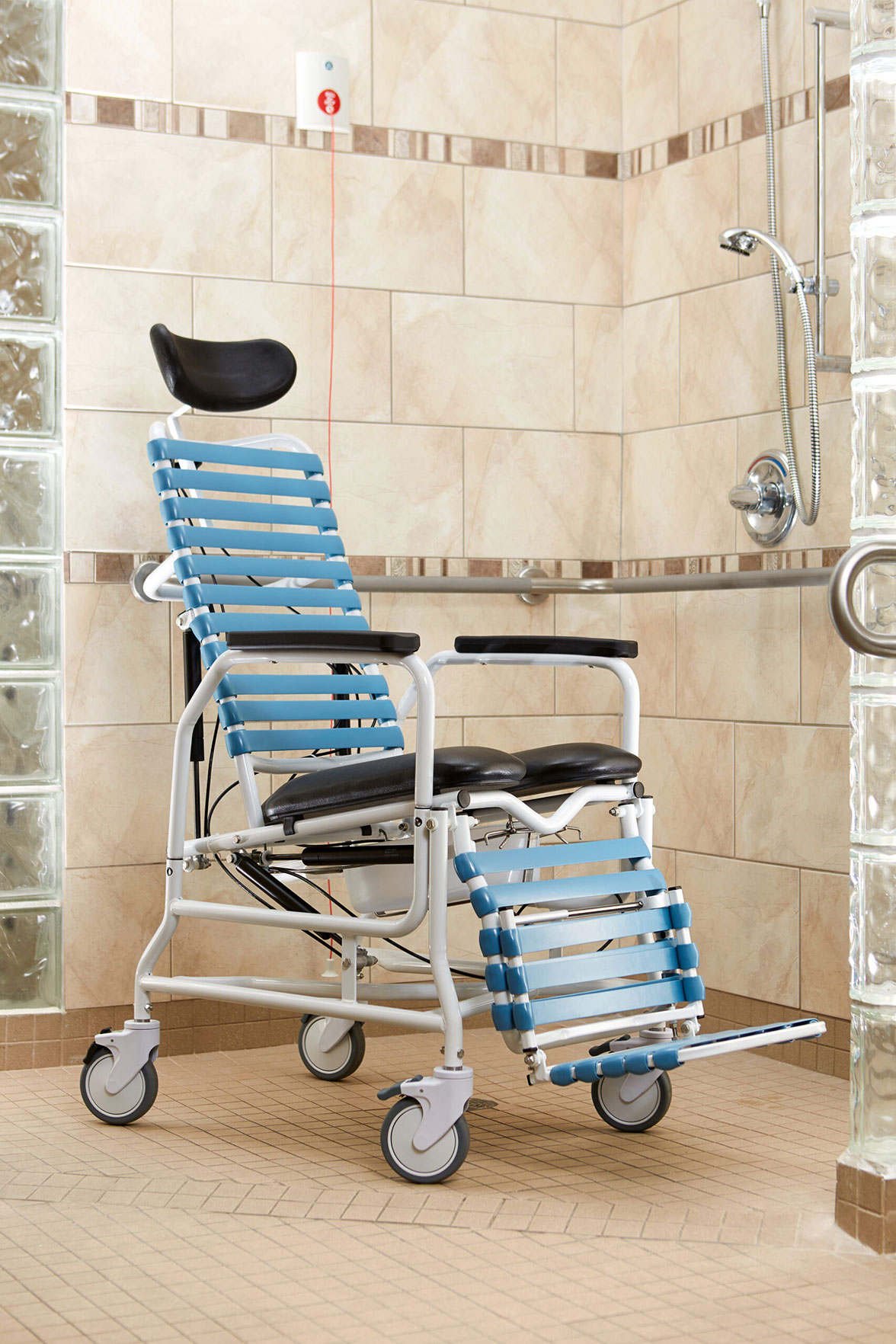 The same is true for shower and commode chairs, which typically come with three-year warranties that expire twice during the span of our standard warranty. It's important to remember that the expense of continually replacing out-of-warranty equipment is only part of the problem. The more significant concern should be incidents such as falls and pressure injuries.
Falls are the leading cause of death for seniors older than 65. Researchers estimate that injuries resulting from non-fatal falls cost the healthcare industry $49.5 billion in 2015 alone.
Pressure injuries and ulcers from uncomfortable seating also plague seniors who depend on DME. This accounts for about $11 billion annually in expenses. Each wound can cost anywhere from $500 to $70,000 to treat — an expensive and unnecessary price.
Why Tilt-in-Space is a Superior Solution 
The higher upfront costs of high-quality positioning chairs might make them less appealing to some. However, using a superior product is a benefit to caregivers just as much as wheelchair users.
Tilt-in-space chairs combined with adjustable leg rests give dependent users the ability to maneuver, recline, and tilt in ways that aren't possible with a basic geriatric chair. This functionality opens up a world of benefits for users, their caregivers, and their families.
A full range of possible positions allows users to fluidly change how they're seated, reducing strain on specific areas of the body. This increased functionality improves blood flow and pressure distribution, lowering the risk of ulcers and injuries.
Positioning chairs can also improve users' posture, which yields a variety of medical benefits. The posterior tilt function facilitates physiological processes, including digestion, respiration, and reduced swelling in the extremities.
The benefits continue. Tilt-in-space wheelchairs facilitate the sort of pressure-relieving movements that users need in order to avoid ulcers and injuries. Simply reclining a backrest by 90 degrees can reduce seat forces by up to 61 percent.
Positioning wheelchairs also make it easier for caregivers to provide assistance without the risk of falls or other injuries. For example, with Broda, patients can assume activity-ready positions without fear of them sliding out of place throughout the day.
Better Seating Reduces Pressure Injuries and Skin Sheers 
For people who spend most of their time in tilt-in-space chairs (four to six hours, on average), comfort is more than an amenity — it's a safety issue and a long-term health concern.
Sitting comfortably throughout the day means that wheelchair users are less likely to attempt to leave their wheelchairs. Such attempts can easily lead to falls or other injuries. Solid frames and dynamic seating keep users safe from sharp corners and edges, which are unfortunately common among bargain-brand seating.
For residents who have conditions that cause involuntary movements — such as Parkinson's disease — our dynamic seating accommodates those movements while avoiding additional injury risks. Our proprietary Comfort Tension Seating® straps conform to each person's unique needs.
The Comfort Tension Seating® straps provide enhanced pressure distribution by suspending weight across multiple points. Combined with innovative tilt-in-space technology, they offer therapeutic pressure relief by enhancing postural support.
Compared to only using some types of traditional cushions, the straps also help maintain users' skin integrity. The straps allow for optimal air circulation to reduce heat and moisture, and they're adjustable to accommodate people of a variety of sizes.
Enhance Clinical Results 
Dynamic seating is essential for comfort, but enhanced functionality is vital for long-term health and well-being. That duty extends far beyond preventing falls and injuries, though.
Tilt-in-space technology creates a customized posterior tilt, which minimizes the pull of gravity on the upper body. Chair users who have limited mobility can more easily use their upper extremities for practical purposes while maintaining leverage to prevent themselves from sliding out of place.
These benefits have a tangible effect on visual orientation, alertness, coordination, and mobility. With a proper posterior tilt, chair users have more endurance to complete daily activities, socialize, self-propel, and be as independent as possible.
Improved blood flow and a more active daily life have positive effects on health and morale — especially for residents of nursing facilities. From a preventative point of view, that equates to profound savings in long-term care costs.
Thanks to the enhanced support of tilt, people with low mobility can regain independence. Our chairs ensure the diaphragm remains open, improving oxygenation, blood flow, and organ function.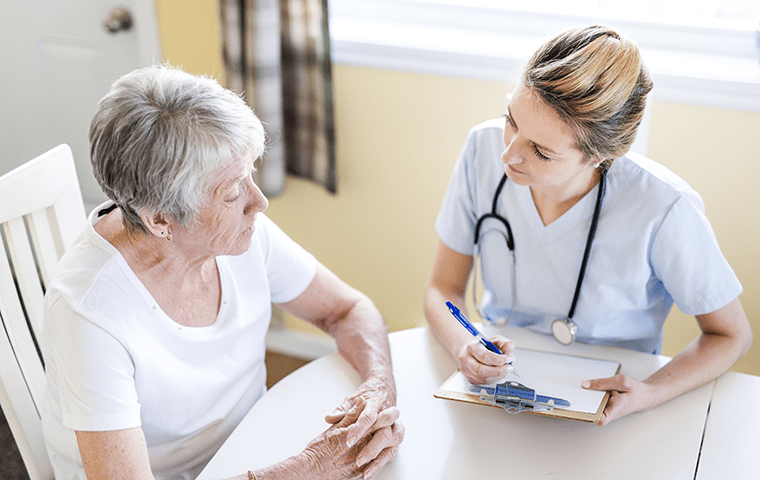 Make Life Easier for Caregivers 
For caregivers and family members who take care of loved ones, our tilt-in-space chairs can make routine tasks like physical transfers or bathing safer and more convenient.
Some of the most significant risks to user and caregiver safety occur during activities such as feeding, bathing, toileting, and transfers. The frequent repositioning that these activities require is less risky when the movements are supported by tilt-in-space and CTS technology.
Reclining one of our chairs allows caregivers to lift and move users more comfortably, and our CTS straps make proper repositioning a breeze. Swing- away/removable arms, adjustable side bolsters, and footrests make these transfers even more convenient.
Broda wheelchairs rest on directional wheels that can lock in one direction to prevent drifting. The wheels also lock in place to keep the chairs stationary, which creates a stable platform for lifting or transferring.
Simplified transfers are a huge benefit, but the accessibility of Broda wheelchairs also reduces the need for transfers altogether. For example, caregivers can perform incontinence changes by removing the chair's arms instead of removing the person from the chair.
Stand the Test of Time 
The enhanced comfort, accessibility, and maneuverability of Broda wheelchairs are incredibly appealing to chair users, but their durability and long-lasting construction provide additional value to everyone involved.
We're experiencing a time when many manufacturers are cutting costs by taking shortcuts and sourcing cheaper components. This results in lower-quality products that leave consumers disappointed by inferior product performance. Broda is not such a manufacturer.
The Broda name is recognized throughout the long-term care environment as a reliable and durable source of medical equipment.
We pride ourselves on that reputation, and it shows in every product we offer.
Worth the Cost
We craft each device with the needs of patients and caregivers in mind. While this might affect the sticker price, it also ensures our product performs at a high level for as long as expected (and often longer).
Our products are backed by more than three decades of practical field research and real-world product design. We never take shortcuts in our manufacturing processes. We always select, test, and verify the best- in-class components to incorporate into our chairs and wheelchairs. In fact, our chairs are made from 16-gauge steel and carry an industry-leading warranty.
When necessary, we even create customized solutions to maintain the standard of excellence that our customers expect. Broda always chooses quality over the status quo.
Control Costs With Higher Quality
It can be a challenge to choose a chair for a friend, loved one, or resident. Everyone wants to provide comfortable and convenient solutions, but cost is also a consideration.
The mistake many people make, however, is assuming that a product's short-term initial cost is the be-all and end-all. In truth, that sticker price is multiplied every time you must replace that subpar equipment — for generic positioning chairs, that could be once a year.
There are also costs associated with the quality of each individual's long-term care. If the equipment is uncomfortable, users might lose some mobility or experience diminished physiological functions. The costs of treating any associated injuries or ulcers should be chalked up to the equipment that causes them. Lower-quality seating can lead to compounded costs in a hurry, while high-quality options result in lower costs down the road.
At Broda, we give equal attention to the needs of residents and their caregivers. By focusing on comfort and quality, our positioning chairs and other products enhance patient care and last long enough for buyers to recoup their investments.
View our entire line of positioning wheelchairs that are specifically designed for patients, caregivers, and family members in a long-term care environment.
To speak with one of our experts, contact us at info@brodaseating.com or 844-552-7632.