A Clinical Perspective from Mike McAdams,

ATP, COTA/L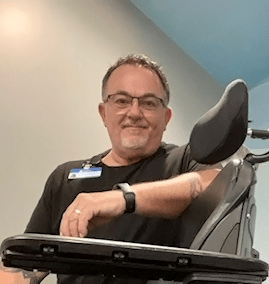 When it comes to safe seating and positioning in long term care, do traditional "Geri" chair recliners make the cut? How do they compare with a custom positioning wheelchair? Broda spoke to Mike McAdams, ATP, COTA/L to share his clinical perspective. McAdams is an assistive technology professional (ATP) and certified occupational therapy assistant and has over 24 years of experience in skilled nursing and other long term care environments.  
Bad Positioning is Disturbingly Common 
In his years of clinical practice, unfortunately McAdams has seen the widespread, detrimental effects of poor positioning in nursing homes and rehab facilities. "Skilled nursing has too many basic, generic solutions," he says. "It's fine for some people to use a basic cushion for comfort and support, but many patients have too many positioning needs to rely on simple solutions." In McAdam's opinion, "Geri" chairs are one of the most common positioning "solutions" that do more harm than good.
Why Aren't "Geri" Chairs Good for Positioning?
From McAdams' experience, "Geri" chairs do not provide adequate postural support, even for users with the most basic positioning needs. While many "Geri" chairs offer a basic fixed reclining function, they aren't as adjustable or user friendly as a true positioning wheelchair. Reclining can also cause skin sheer in some instance.1 Furthermore, leaving a patient in a reclined position for a substantial part of the day doesn't supply the true physical and social benefits of getting out of bed, keeping users orientated towards the ceiling.  
"Geri" Chairs Can Cause Pressure Injuries
"Geri chairs don't have good pressure-relieving qualities either," says McAdams." With most certified nursing assistants having limited knowledge of positioning and facilities being overwhelmed, Geri chairs regrettably end up being a default, one-size-fits-all solution for watching multiple patients at once. To make the recliners more comfortable, McAdams often sees nursing staff resort to placing wheelchair cushions and pillows underneath the patient, but these can cause more harm than good. "A "Geri" chair has no shoulder bolsters to protect the patient from fatigue or restlessness. They slump to the side or to the front, even when staff tries to keep them upright," he says. 
In truth, Geri chairs are more similar to basic recliner furniture, not clinical positioning devices. Even though they may be cheaper than a high-quality positioning wheelchair, McAdams has seen that using a Geri chair as an alternative can cause painful and costly problems for users and caregivers alike.
The True Cost of Using "Geri" Chairs as Positioning Devices
In McAdam's experience, it's more expensive to treat Geri chair-related injuries than to buy a quality positioning wheelchair. His experience matches the data. According to the Advances in Wound Care journal, a pressure injury can cost between $500 and $70,000 to treat per occurrence.2 Falls are also often documented with Geri chairs. As the leading cause of death for seniors, injuries from falls cost the healthcare industry up to $50 billion per year per a 2018 study in the Journal of the American Geriatrics Society.3 Compared to these astounding costs, the price of a good positioning chair certainly pays for itself over time.  
Clinical Recommendation: Broda Wheelchairs vs. "Geri" Chairs
When it comes to comfort and safety, McAdams always recommends a Broda positioning wheelchair over a Geri chair for essential comfort and positioning. 
"If you had chairs like Broda offers with infinite adjustability and positioning pads, you'd be able to alter them from patient to patient and meet each person's specific needs," he says. "Each Broda wheelchair lasts for so many years and can be repurposed for multiple patients."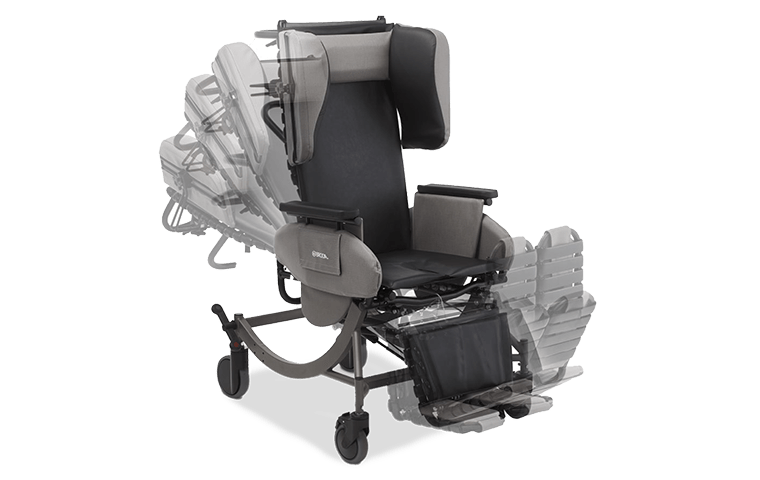 What is the ROI of a Broda Wheelchair?
Broda offers a 10-year warranty on each wheelchair frame and a 2-year warranty on all parts. A Broda wheelchair also helps prevent costly pressure injuries and falls, resulting in significant long-term savings and excellent return on investment (ROI) over its long lifetime of use. If you are considering Broda vs. Geri chairs, consider the ROI.
When it comes to high-quality positioning, patient comfort, and responsible cost management, a Broda positioning wheelchair is the obvious choice over a Geri chair and other medical furniture.
To request a quote on a positioning wheelchair from Broda, call 1 (844) 552-7632 or email [email protected]
References
Dicianno, B. E., Lieberman, J., Schmeler, M. R., Schuler P. Souza, A. E., Cooper, R., Lange, M., Liu, H., & Jan, Y.-K. (2015, February 23). RESNA Position on the Application of Tilt, Recline, and Elevating Legrests for Wheelchairs Literature Update. Arlington, VA; Rehabilitation Engineering and Assistive Technology Society of North America.

Boyko, T. V., Longaker, M. T., & Yang, G. P. (2018). Review of the Current Management of Pressure Ulcers.

Advances in wound care

,

7

(2), 57–67. Retrieved from:

https://doi.org/10.1089/wound.2016.0697

 

Haskins, J. (2018). Falls among US seniors cost $50 billion each year.

The Nation's Health

,

48

(4) E18. Retrieved from:

https://www.thenationshealth.org/content/48/4/E18