Providing Comfort for Huntington's Disease
Broda is dedicated to serving the Huntington's Disease community by providing safe and comfortable seating designed especially for the condition.
Huntington's Special Padding Package
Our Huntington's Special Padding package provides comfortable, stable, protective padding and positioning for patients with severe agitation and involuntary movement. Designed to support individuals with Huntington's Disease, this package enhances comfort and provides a safe sitting environment at home and on the go. 
Meet Lizbeth: A Real-Life Broda User
Meet Lizbeth and her husband, Alan. Lizbeth has Huntington's disease and is beating the odds to continue living at home. As a result of her comfort from the Synthesis Positioning Wheelchair and the Huntington's Special Padding package, Lizbeth can continue her courageous fight surrounded by the loving care of her family.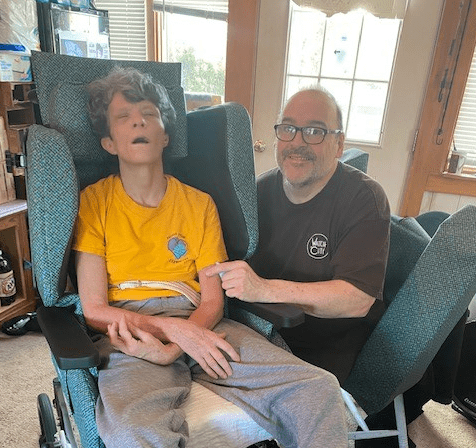 Built-In Fall Prevention & Comfort
Broda wheelchairs include built-in fall protection to keep you or your loved one steady and safe. Our swing-away arm and leg supports can pivot to the side. As a result, caregivers can transfer the user to and from the chair with no obstacles. During use, our wheelchairs tilt and recline to help the occupant maintain a comfortable and secure posture. Additionally, our unique Comfort Tension Seating® molds to each user's body, creating a supportive, anti-slip seating surface.
Easy Hygiene Routines
Our Revive Shower Commode offers a comfortable, dignified bathing experience. This shower commode chair tilts and reclines to provide a comfortable bathing experience, even in hard-to-reach areas. The Revive also features our Comfort Tension Seating® for a soft seating surface that molds to the user's body. With the Revive, caregivers can help their patients with Huntington's Disease enjoy their hygiene routine.
Cleaning & Sanitation Made Easy
All Broda wheelchair cushions and components are fluid-resistant. Caregivers can easily wipe the cushion surface clean in the event of a spill or accident. This cleanability is also beneficial for mealtime messes, incontinence, contagious illnesses, and much more. Additionally, your user's manual will even include cleaning tips for your specific wheelchair model.
Built to Withstand Chorea Symptoms
Many HD families have trouble with wheelchairs frequently breaking under the strain of chorea. Our wheelchairs are durable and constructed to withstand involuntary movements. Broda manufactures all wheelchairs in North America with premium materials. The frames are constructed with 16-gague, powder-coated tubular steel, built to outlast any other wheelchair. We also offer an industry-leading 10-year frame warranty and a 2-year warranty on all wheelchair parts. You can be confident that your Broda rehab wheelchair will last a long time, with minimal repairs. The frame is  stable and can withstand movement without tipping. In summary, Broda wheelchairs are ideal for families combating Huntington's disease.
Ready to learn more? Check out our recommendations for the best wheelchair for Huntington's disease.
Our Recommendations for You