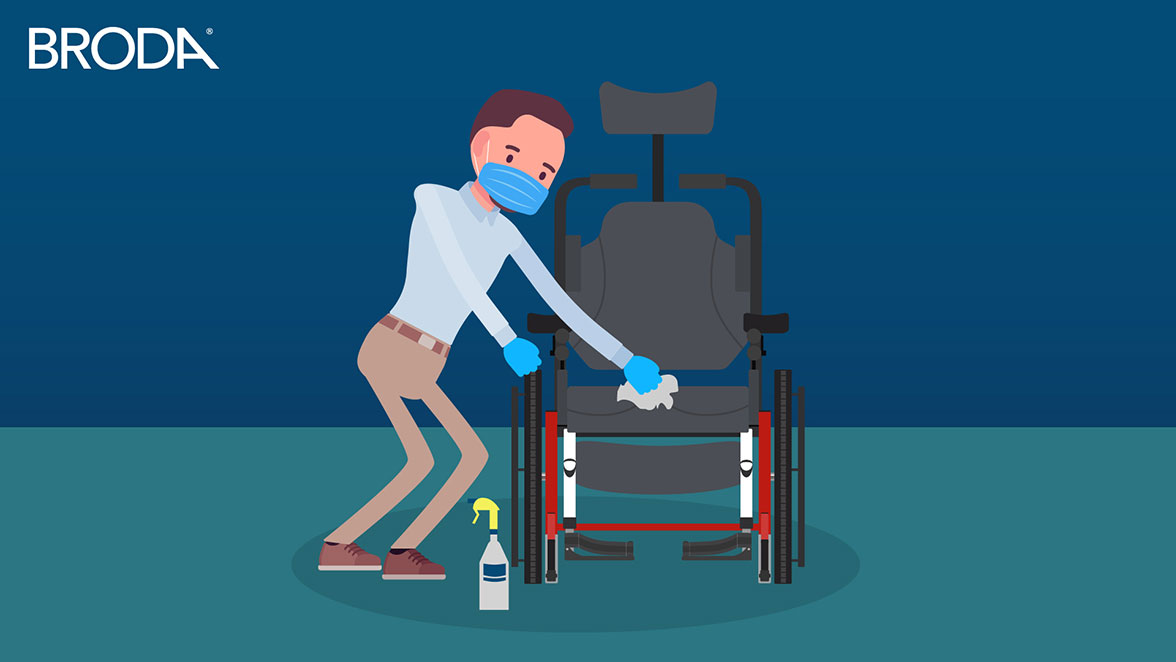 Easy-to-Clean Wheelchairs
A sterile environment is critical in every health care setting. Broda wheelchairs meet these needs with materials and designs that are easy to clean. Easy cleanability is not only important for infection control, but also for the wheelchair user's comfort and dignity. We use smooth, minimally textured surfaces to reduce the risk of food, liquids, or viruses becoming embedded in the fabric. We also make it easy to remove individual pieces of the wheelchair for separate cleaning and disinfection.
Fluid-Resistant Surfaces
Broda wheelchair cushions are made with non-porous vinyl, which creates a fluid barrier. Having a fluid-resistant surface saves time and effort when disinfecting between patients and cleaning up after accidents, spills, and even food messes. This is especially convenient for treating incontinence and infectious diseases.
You can find complete cleaning instructions and recommended cleaning products in your owner's manual.
Durable Materials
While using recommended cleaning products, you don't need to worry about damaging your Broda wheelchair or its cushions. The paint and finishes we use on wheelchair frames are scuff-resistant, and the cushions resist tears and micro-abrasions.
COVID-19 Disinfection for Broda Wheelchairs
Easy disinfection is especially important following the COVID-19 pandemic. By using an approved cleaner on the vinyl-covered cushions and solid metal components, facilities can confidently and easily disinfect Broda wheelchairs to combat COVID-19.
How to Clean a Broda Wheelchair
Cleaning Broda products is a straightforward process. However, it's vital to ensure that it's done properly to maximize your results and lower the risk of infection. Here are the steps to follow when it's time to clean your Broda chair:
Remove any liquid spills or debris by using a damp cloth, soap, and warm water. Rinse the affected area with water before drying it thoroughly.
For tougher stains or mild disinfection, spray a concentrated cleaner such as Formula 409® or Fantastik® directly on the stained area. Wipe it down with a clean cloth.
To maximize disinfection and sanitization, there are two main options. You can use either a hospital-grade quaternary cleaner at the recommended dilution or a 1-to-4 mix of bleach to water. Apply the cleaning solution directly to the vinyl material.
As an alternative to a quaternary solution or a bleach mixture, you can use a steam vapor cleaner that produces steam at 240°F to 270°F. This can be used to clean heat-resistant areas, such as the vinyl fabric and frame components of Broda products.
Have Questions about Infection Control?
Contact the Broda team today to learn more about disinfecting your wheelchair.