Real Stories, Real Comfort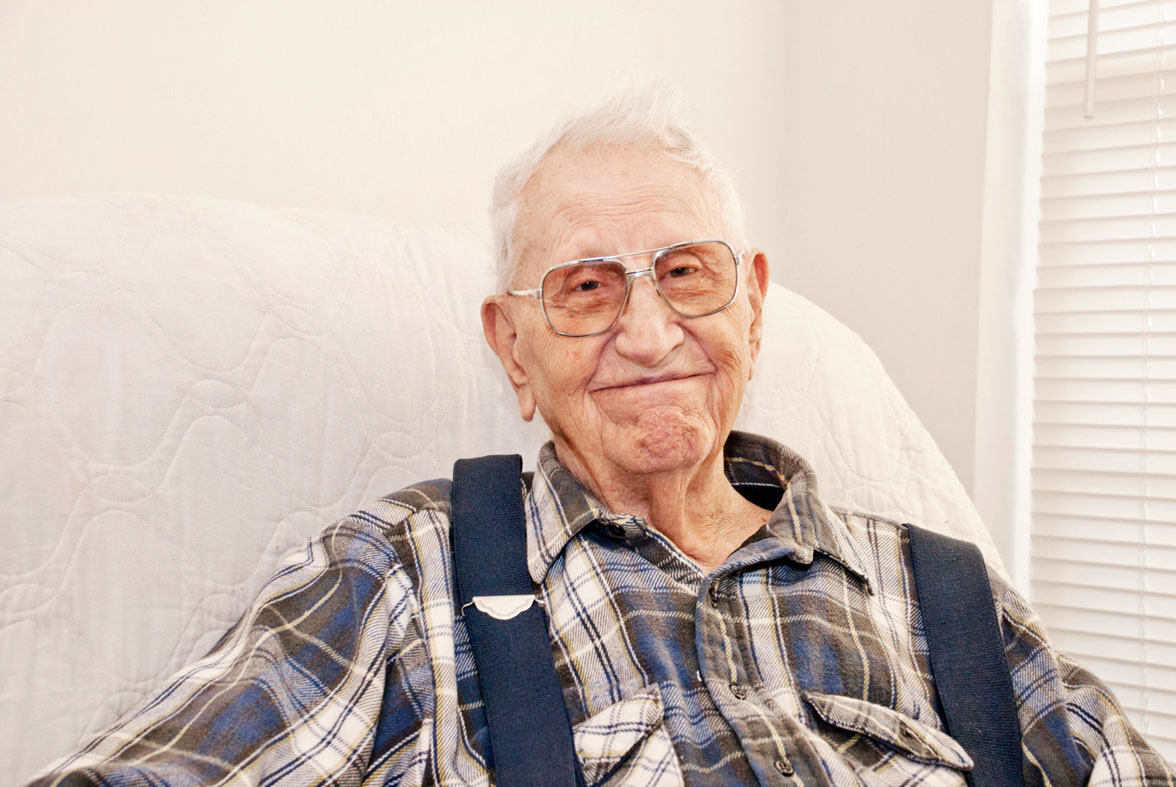 Bringing Back a High Quality of Life
We were at a loss with one of our residents who has frontal lobe dementia. The occupational therapist was unable to adjust his wheelchair properly to accommodate for his trunk lean.. He had stopped walking…He also had stopped feeding himself. He appeared to be in pain. We attempted to address the pain however any medication we used caused him to have increased behaviors. We knew this was all caused by the positioning in the wheelchair he was in. The occupational therapist finally called a Broda representative and they came up to fit the resident with a new wheelchair. Since then, the resident has now been walking again. He is feeding himself. He smiles and laughs like he used to. He is showing no signs of pain anymore. Thank you for producing a great product that brings quality of life back to our residents!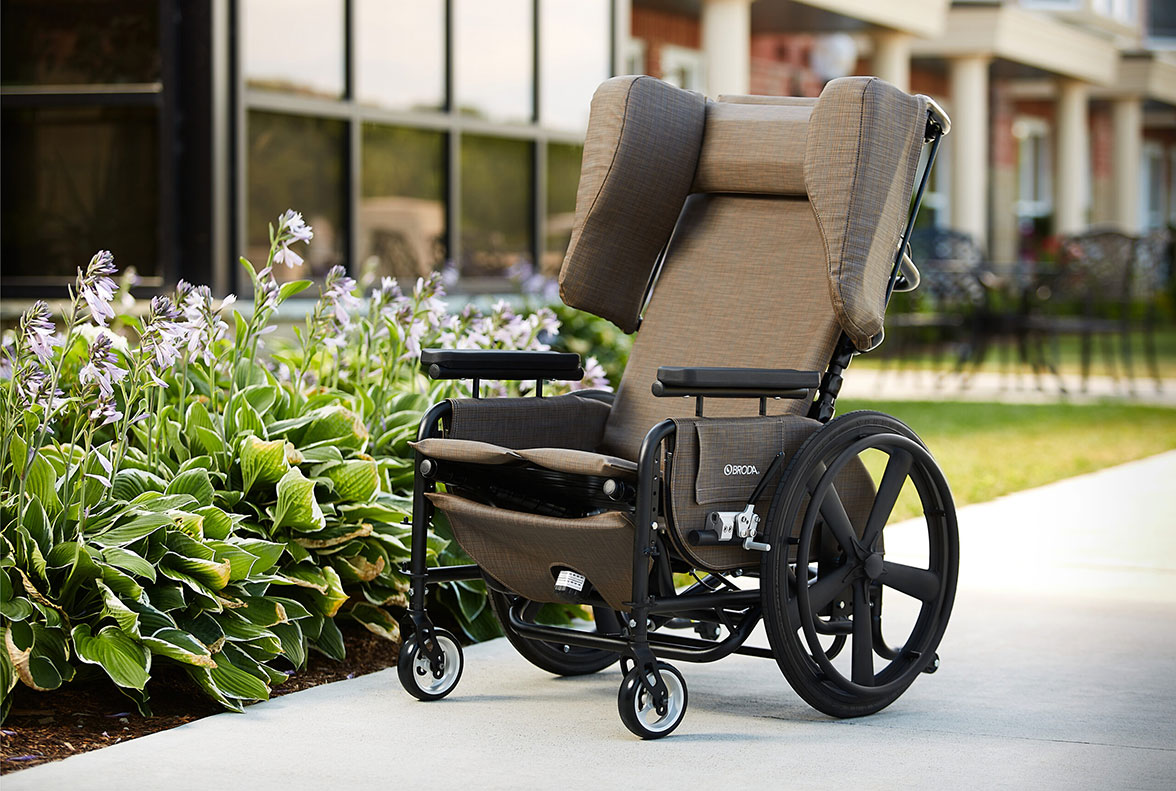 Reducing Sheer Force
We have found the Broda Pedal Wheelchair beneficial in reducing the need to use added restraints and even more it has improved out-of-bed positioning for our residents. The chair enables a resident's position to be changed by tilting instead of reclining. This is beneficial in that changing position with tilting instead of reclining reduces the sheering forces in the areas of the sacrum, coccyx, and ischial tuberosities thus reducing the potential for skin integrity problems. The Pedal Chair also enables residents, with the ability, to be independently mobile while in a tilted position which decreases the fatigue of the trunk musculature by not having to support their upper body in a fully upright position all day.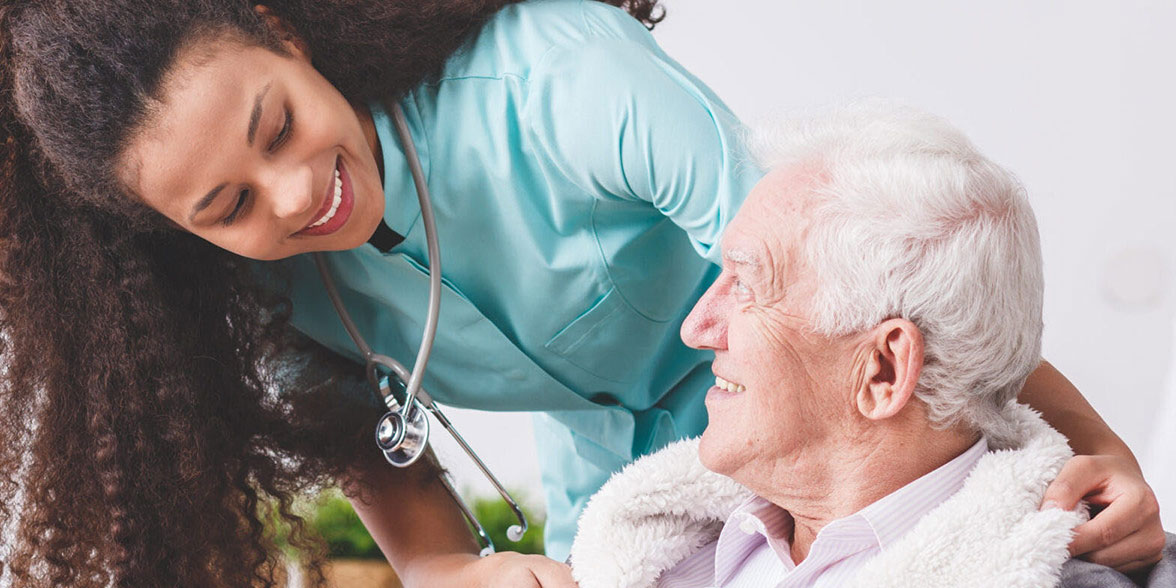 Easy to Use & Durable
We have two Broda chairs- one for a resident with Huntington's Disease, and one for a resident with Parkinson's Disease. The Huntington's resident is severely spastic with uncontrolled movements. We have tried multiple chairs with lap restraints and lap belts with no avail. The resident had severe, injurious falls and has had no falls since the Broda placement. The chair for the Parkinson's resident is used for comfort and he has had no discomfort since using the Broda chair. The staff really likes the Broda chairs. They are easy to use, adjust, roll, etc. They are excellent, durable chairs and we are very satisfied.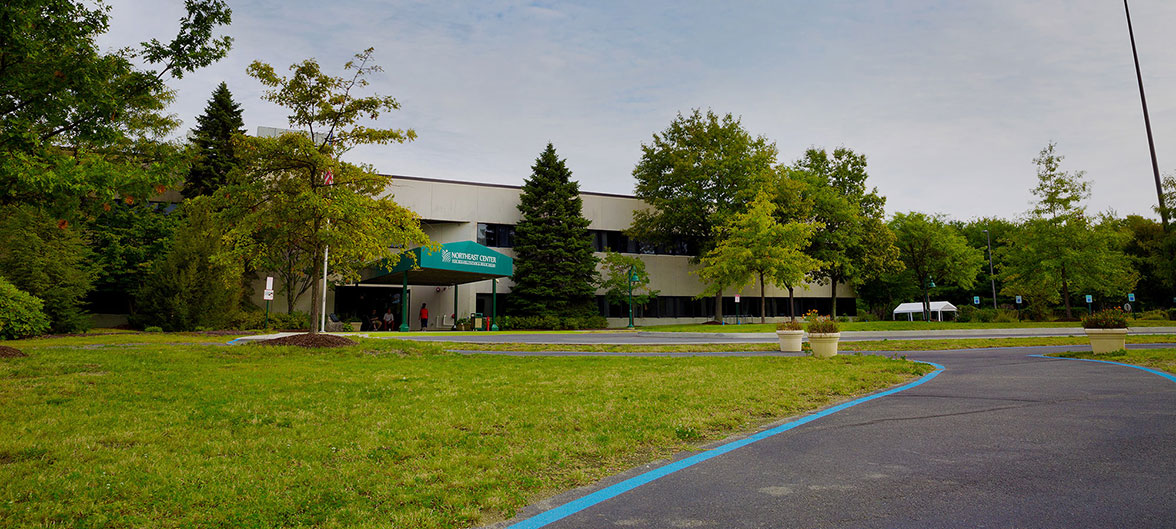 Nothing Works Better than Broda
I have been using Broda wheelchairs for over 20 years in traumatic brain injury (TBI) and geriatric in-patient settings. I have used Broda wheelchairs with clients who have needed this flexible support and I have been happy with the results. There are no other options that work better than Broda wheelchairs for clients with extreme, non-purposeful movement.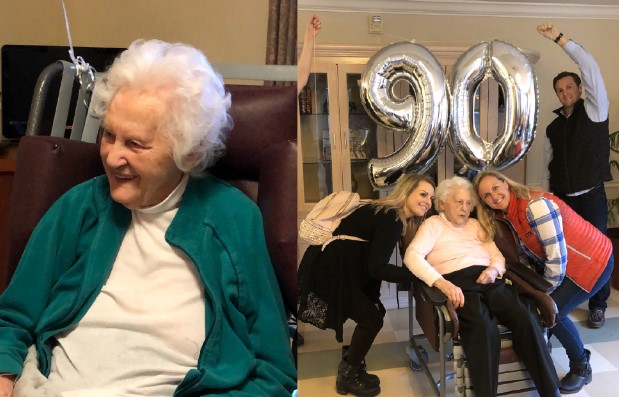 Comfort & Peace of Mind
"My grandmother spent the last few years of her life in the Broda Centric Positioning Wheelchair. This was a relief to see her out of bed and comfortable in her wheelchair throughout the day. When we visited we were able to easily push her around the care facility, chatting with her and the other residents. The functionality and simplicity of Broda clearly contributed to a better quality of life for my grandmother in her final years. A few years later this personal experience later led me to join Broda as Head of Marketing! "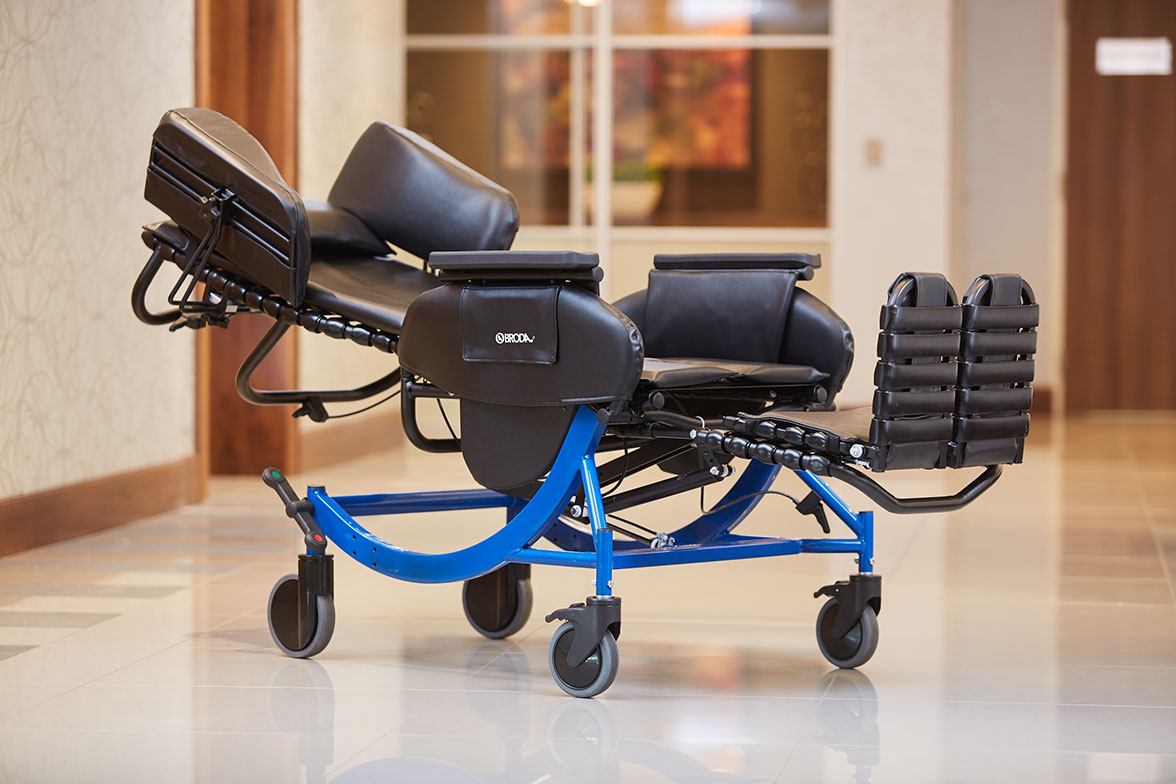 Getting Out of Bed with a TBI
"My son has had a Broda chair for the past 8 years. He was 23 years old when he acquired his [Traumatic Brain Injury] from a motorcycle accident. The Broda chair has allowed him to be up out of bed on a daily basis. If not for his Broda, he wouldn't be able to get out of bed because he has no truck control and cannot sit in other chairs for any extended periods."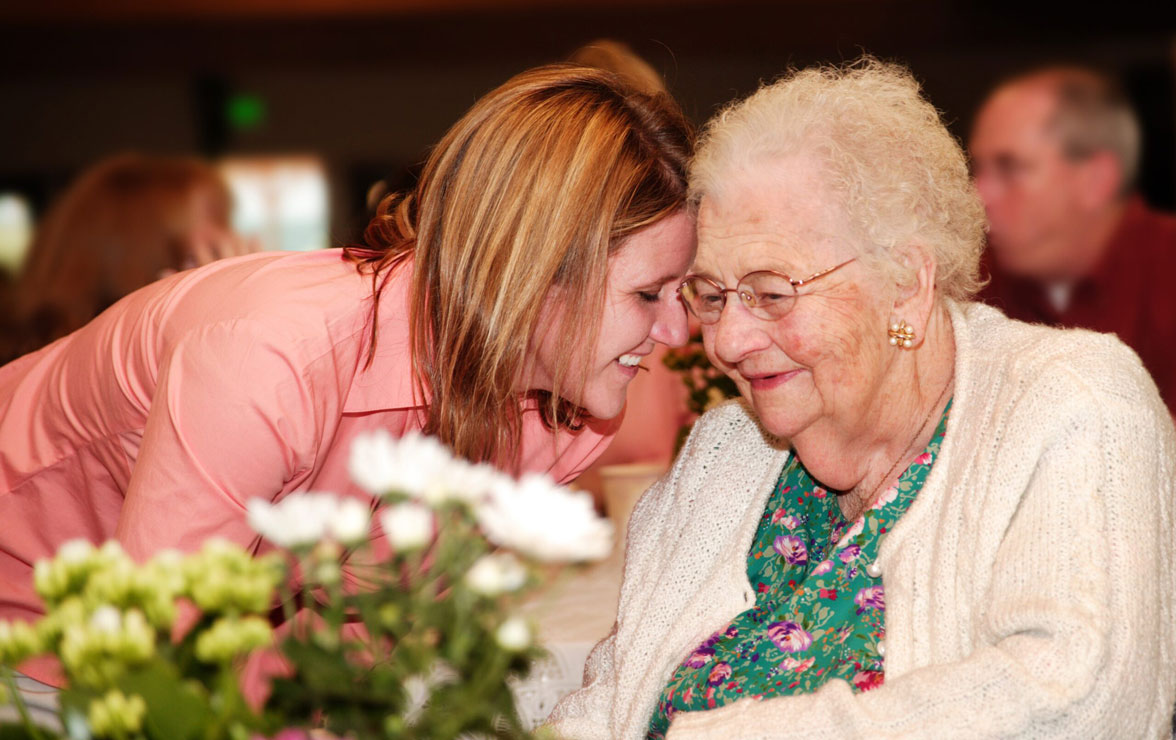 Total Comfort, Less Anxiety, & Increased Mobility
My mother has osteoporosis and arthritis with muscle weakness and bone and joint discomfort. Since she received this new Broda Encore Pedal Wheelchair with dynamic rocking, she has total comfort and less anxiety with increased mobility. We hope to see muscle and bone strengthening as she lost her ability to ambulate more than a few steps on her good days these last few months. She is legally blind, seeing only light and dark these last 2 years. She just celebrated her 96th birthday and lived alone until age 93. This chair has met her very important needs of comfort, safety, strengthening, mobility.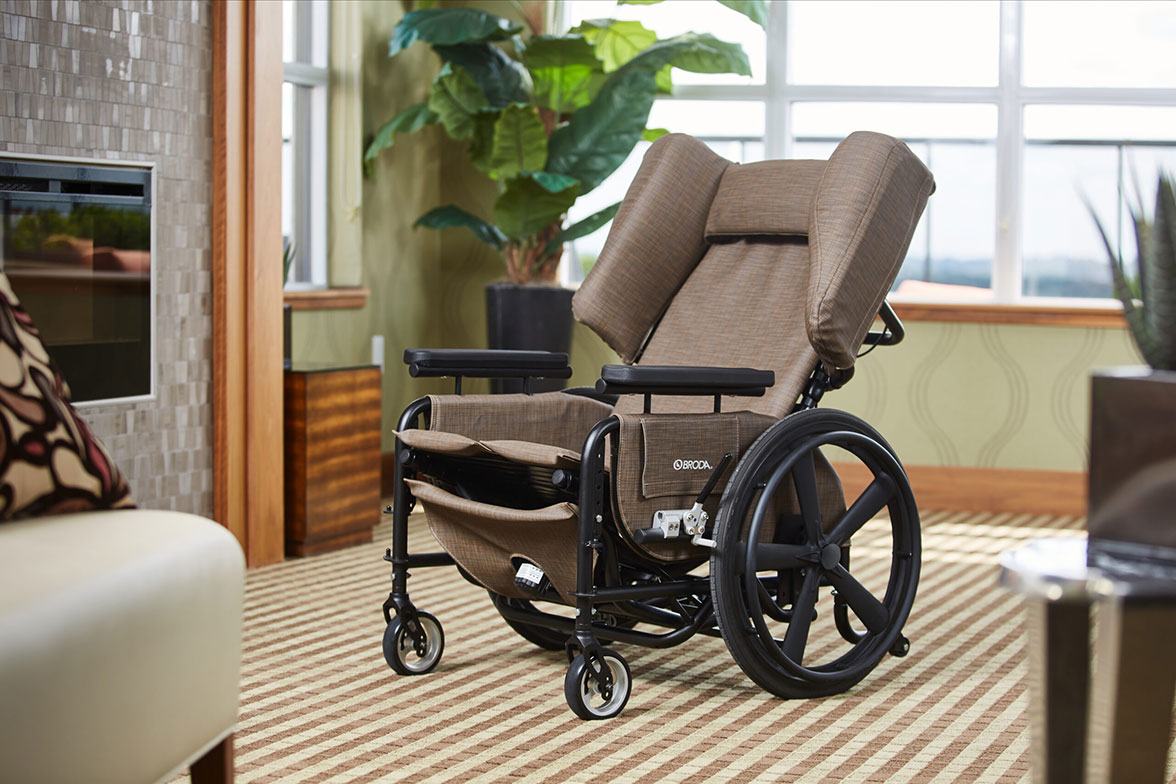 Dignity for a Down Syndrome Client
I had a client with a diagnosis of Down syndrome. He was unable to walk and had scooted on the floor his entire life. He had a significant pressure injury on his coccyx and was a safety concern for himself and others. An assessment was completed with the Latitude (Rocker) Wheelchair and it worked perfectly for him. He was able to recreate the same scooting movements he always had with the Latitude's low seat surface height and the rocking engaged. Along with the pressure redistribution of the Comfort Tension Seating®, this allowed the injury to begin healing. It was so great to see him off the floor for the first time and his reaction let everyone know he was happy with his new wheelchair.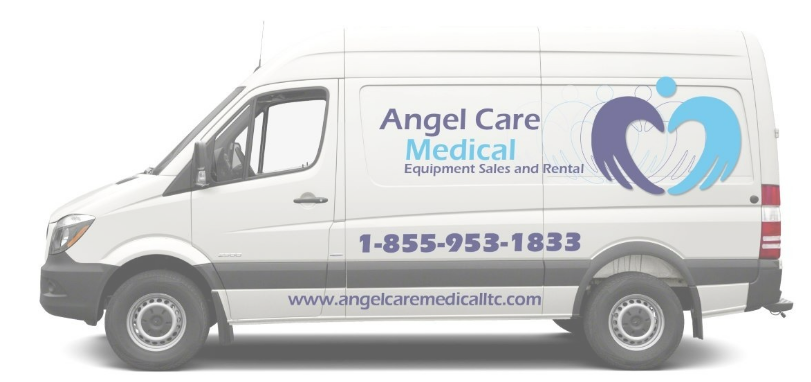 Angel Care Medical
Angel Care prides itself on partnering with key manufacturers, like Broda who have quality products. "It's really all about our products and service first…Typically, what you'll see in Hospice and long-term care, it's the cheapest product you can get just so the facility generates more revenue. But that also can have a negative impact on their quality outcomes so, at Angel Care, we try to always offer higher quality products and service that provides facilities with better outcomes for those facilities and our community over the long term."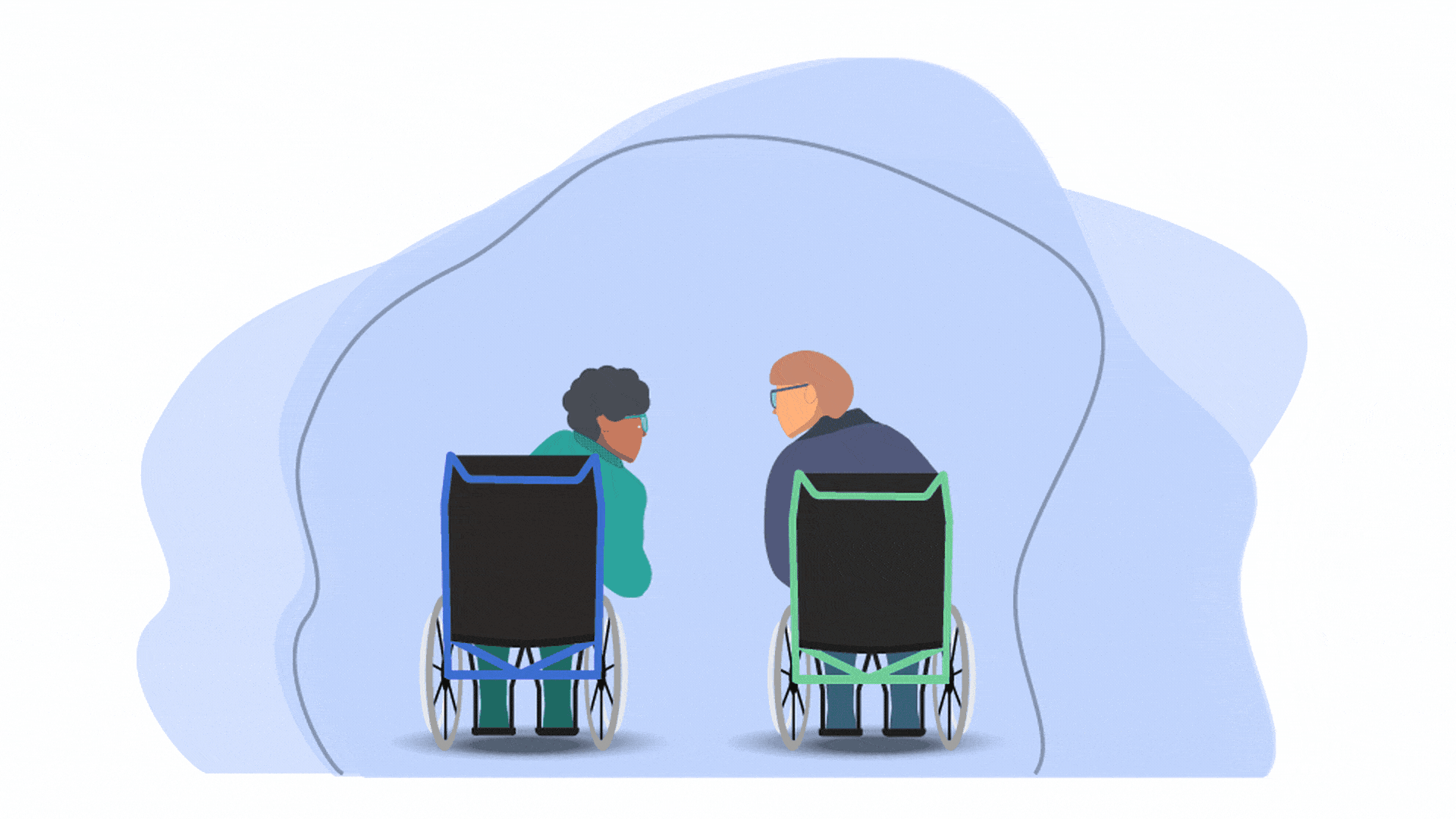 A Commitment to High Quality of Life
For over 40 years, Broda has contributed to improving the lives of thousands upon thousands of individuals from all walks of life. We are not only providers of medical equipment. We provide comfort, time with family, and the ability to do what matters most to you.
A Piece of Broda History
In the 1990's, Broda was featured as an advancement in medical technology on the American Medical Review with Charlton Heston. Many of the things that made Broda great in the past continue on today. Watch this treasure from our Broda media archives, featuring a presentation from one of our founders, Stephen Brotherston.
Innovations in Mobility: Celebrating the Encore Pedal Wheelchair
In 2019, Broda launched our innovative Encore wheelchairs. These wheelchairs were designed to be comfortable and ergonomic mobility solutions, configurable for all types of mobility and rehab needs. Check out our original video introduction for this life-changing chair.
Share Your Broda Story
Tell us more about your Broda experience for a chance to win a brand new Broda wheelchair for you or a person in need. Terms and conditions apply.