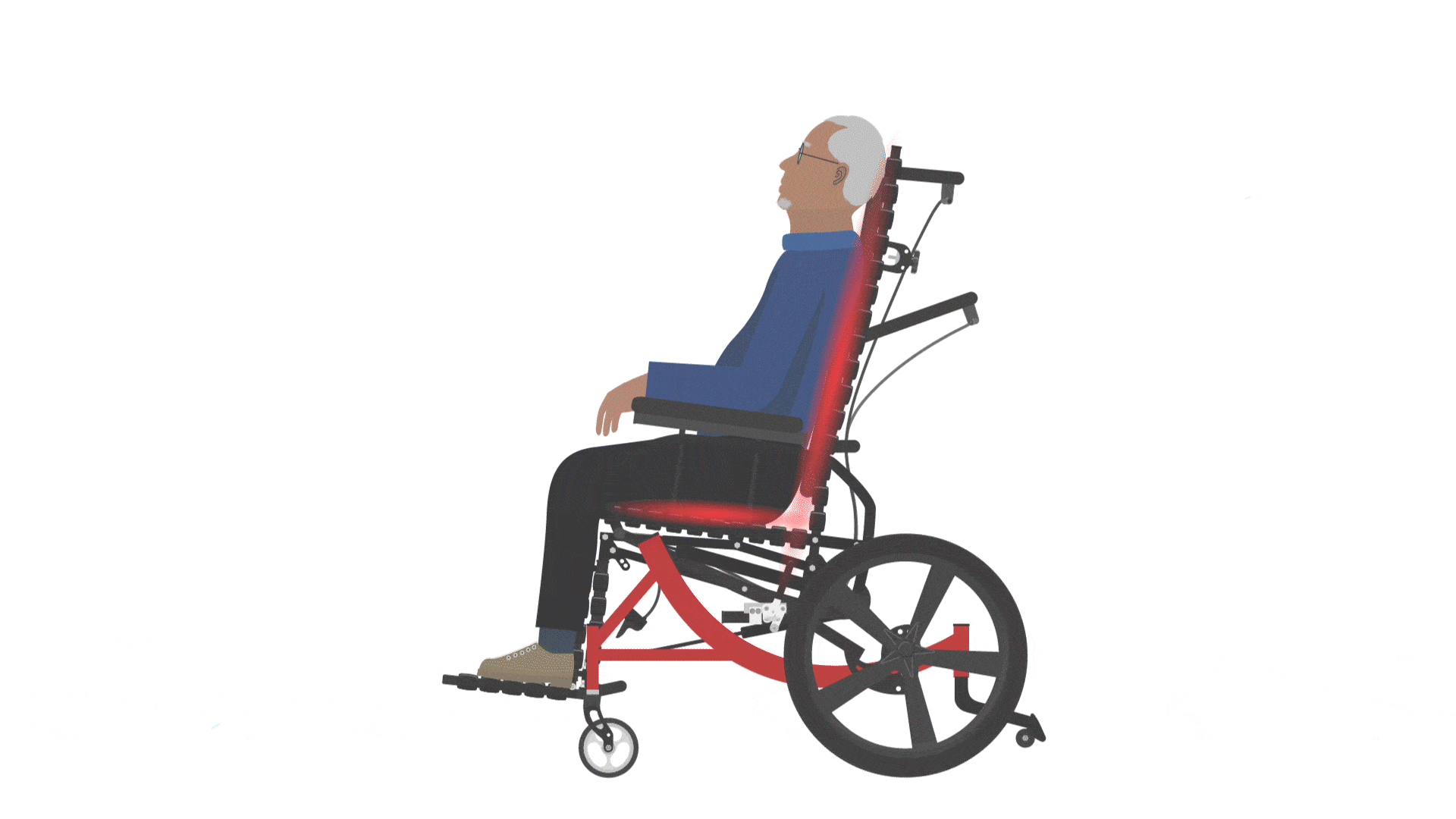 We believe that seating comfort is an essential part of a healthy lifestyle. Our goal is to make every person comfortable, while increasing their sitting tolerance and reducing their risk for pressure injuries and other adverse effects. Broda has designed a solution to worrying about seating comfort: our Comfort Tension Seating® system.
The Broda Comfort Tension Seating® System
Unlike conventional sling-style wheelchairs or institutional furniture, Comfort Tension Seating® is made up of individual straps that mold to the user's body, creating a supportive, anti-slip seating surface. This unique seating system relieves pressure better than conventional cushions alone. Each strap conforms individually to the user's body weight and suspends that weight more evenly across the sitting surface. This prevents localized pressure that can occur in a standard wheelchair. Broda uses Comfort Tension Seating® not only on the seat of our wheelchairs, shower commodes, and gliders, but also on the back supports and the foot supports. This ensures that many of the most common pressure injury sites are protected, including the sacrum, shoulders, back of the knees, and heels.1
Redistributing Pressure
Pressure injuries cause over 60,000 deaths per year.2 These types of injuries cause pain and discomfort that can be detrimental to an individual's overall health and wellbeing. In addition to the Comfort Tension Seating® system, Broda wheelchairs have advanced positioning features to make sure the user can be comfortable while reducing their risk for pressure ulcers. Our easy-to-operate tilt and recline features are adjustable to an infinite number of positions to fit the user's preferences. Proper positioning is critical to preventing and treating pressure injuries. Conversely, incorrect positioning can lead to inordinate amounts of pressure being placed on bony prominences in the body. As a result, skin breakdown and pressure injuries occur.2
Preserving Skin Integrity
If a person is dependent on a caregiver for their activities of daily living (ADLs), then they are more prone to pressure injuries.3 Preventative measures can be taken during ADLs to preserve skin integrity. Broda wheelchairs reduce the strain placed on the skin during transfers and when dressing, toileting, and bathing. During those activities, the risk for shear increases. Our positioning wheelchairs, pedal wheelchairs, and shower commode chairs feature removable arm, leg, and shoulder supports to make transfers smooth.
Increasing Postural Support
In addition, posture is a key factor when it comes to comfort. It's common to see wheelchair users slumping forward, leaning to the side, or sliding out of their seat. These incorrect positions place undue stress on the musculoskeletal system and can cause extreme discomfort. However, with a Broda wheelchair, caregivers can apply the tilt and recline features to help the user maintain a correct, ergonomic, and comfortable position. If a patient is properly positioned, then they are typically more comfortable in the long run. Comfort can increase a person's sitting tolerance, mobility, and subsequently, their ability to perform activities of daily living.
Cost-Saving Preventative Measures
Pressure injuries and ulcers cost healthcare providers and patients over $11.6 Billion USD per year.2 This is at an average cost of $10,700 USD per pressure injury, with some cases having multiple injuries.2 In contrast, purchasing a quality, customizable positioning wheelchair costs a small fraction of that amount. In addition to the monetary costs, 84% of pressure injury patients report being in pain, even at rest.4 In summary, the return on investment in cost savings and comfort make a Broda wheelchair the clear choice for comfortable seating.
References:
AlAboud, AM, Manna, B. (2021, July 1) Wound Pressure Injury Management. StatPearls [Internet]. StatPearls Publishing; 2021 Jan-. Retrieved October 20, 2021, from https://www.ncbi.nlm.nih.gov/books/NBK532897/
Agency for Healthcare Research and Quality. (2014). Are we ready for this change? AHRQ. Retrieved March 10, 2022, from https://www.ahrq.gov/patient-safety/settings/hospital/resource/pressureulcer/tool/pu1.html
Akbuğa,Gökçen & Mucuk, Salime. (2015). The Evaluation of Daily Living Activities, Pressure Sores and Risk Factors. Rehabilitation nursing: the official journal of the Association of Rehabilitation Nurses. 40. 10.1002/rnj.145.
Yeroushalmi, B. (2019, March 13). Exploring the social and psychological effects of pressure ulcers. California Nursing Home Abuse Lawyer Blog. Retrieved March 10, 2022, from https://www.californianursinghomeabuselawyer-blog.com/exploring-the-social-and-psychological-effects-of-pressure-ulcers/