About Cherubini Enterprises, Inc.
Kim and Jim Cherubini are problem solvers. They founded their eponymous medical equipment supply company in 1999 with a mission to solve clinical issues and help people across the continuum of long-term care.

In partnering with Broda, they've exceeded that goal.
Today, Cherubini Enterprises, Inc. is a thriving testament to the power of quality customer service and exceptional durable medical equipment.
For the Cherubinis, it was Broda from the Beginning
Early on, Kim and Jim realized one DME company excelled in key areas of user need. Broda's exclusive line of wheelchairs and positioning equipment allowed Cherubini Enterprises to offer their customers the comfort, enhanced independence, and quality of life everyone deserves.
From the start, Kim aligned with Broda's vision. They had the right idea to build a chair that is comfortable and has pressure relief and positioning qualities," adding, "It's a home run!"
So Much to Love About Broda
Over the years, Kim's appreciation has grown. "I love what Broda wheelchairs can do for a person who needs to be seated all day," she explains, adding, "Even after sitting in a normal chair over time, you'll quickly appreciate the comfort and adjustability of Broda wheelchairs. It's not easily duplicated in other wheelchairs, if at all."
The Cherubinis also appreciate the additional safety features of Broda wheelchairs.
"The safety provisions save a lot of money for patients and healthcare facilities. And comfort and pressure reduction lead to a better quality of life."

Kim Cherubini, Owner, Cherubini Enterprises, Inc.
Becoming a Broda dealer has generated a thriving business for Cherubini Enterprises, all while fulfilling their mission to help solve crucial mobility issues.
CEI's line of Broda wheelchairs has seen particular success in hospice care. They've personally witnessed the power of Broda wheelchairs to "mitigate pain and increase comfort in many hospice patients."
Cherubini Enterprises not only represents an extensive range of quality Broda products, but they also embody the Broda brand values.
We go above and beyond for our customers, to improve all aspects of their lives. We're proud to provide essential comfort and enhanced quality of life to those we're honored to serve.

Kim Cherubini, Owner, Cherubini Enterprises, Inc.
Representing Broda for years, the Cherubinis have thorough knowledge of Broda wheelchairs and their features. "Before making a recommendation," they explain, "we always evaluate the user's needs to make sure that we help them choose the perfect wheelchair.
The team at Cherubini Enterprises especially love the "amazing results" they've witnessed from Broda's proprietary Comfort Tension Seating. Other CEI team favorites include: "the Pedal Wheelchairs for how well they prevent falls," and "The Revive Shower Commode and Synthesis Transport Wheelchair."
The transformations Broda wheelchairs make in people's lives continue to amaze Kim and her team.
Once, nursing home therapist contacted CEI seeking a Broda chair for a patient with a worsening pressure wound. CEI happily provided a trial wheelchair. Two weeks later, the patient's wife called the therapist in joyful disbelief. After years of suffering, her husband's wound was improving! They immediately purchased their Broda wheelchair. It was a happy ending, all around.
Addendum: Cherubini Enterprises, Inc. sold in 2023 and is no longer an Authorized Broda Dealer.
How Broda Partners with Medical Equipment Supply Businesses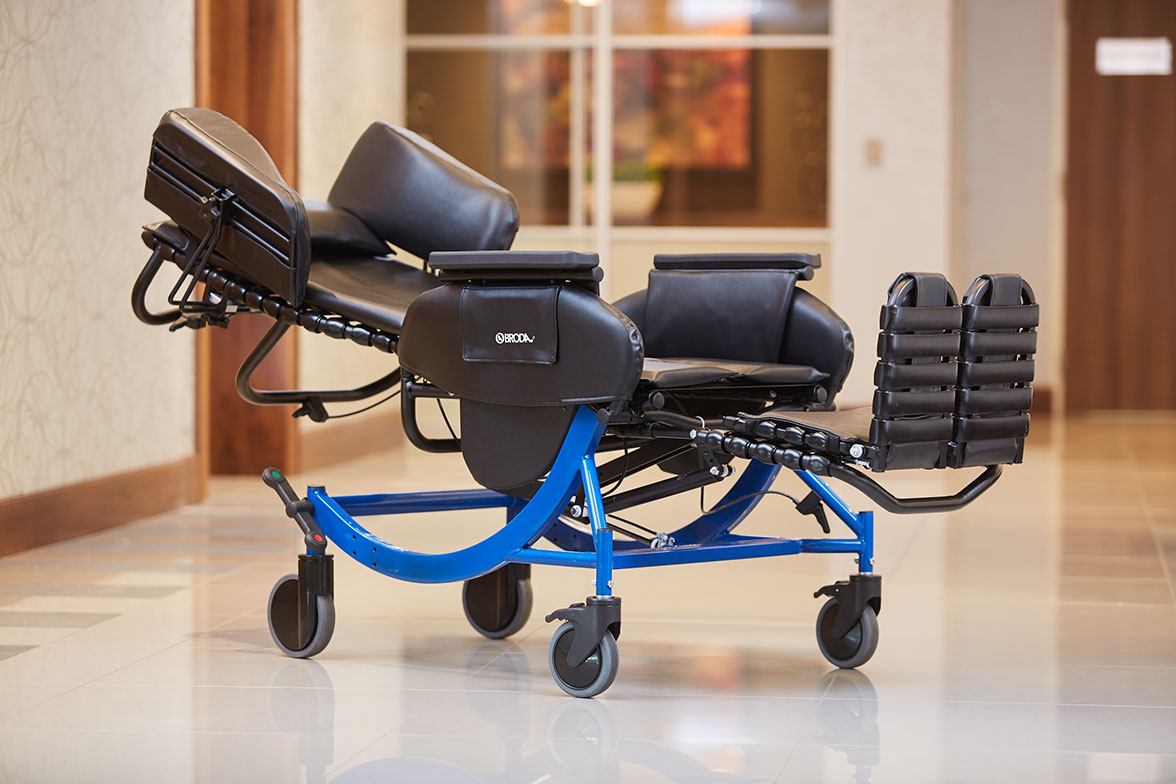 Broda wheelchairs have generated outstanding outcomes for Cherubini Enterprises and their customers.
It's our mission to deliver powerful results for our suppliers and users.
Our users benefit from the enhanced quality of life our wheelchairs provide, while our dealers, like Cherubini Enterprises, supercharge their sales and customer satisfaction.
Broda wheelchairs are backed by many years of well-documented customer success and outstanding ROI.
The Cherubinis recognized the difference from the start, proclaiming: "When we first heard of the Broda wheelchair, we saw it was superior to everything we'd seen on the market."
Today, Cherubini Enterprises is a testament to the power of Broda wheelchairs to help launch any DME or HME business into the sales stratosphere. From humble roots, CEI has expanded into six states and also sells Broda products nationwide online.
The Broda Difference for Cherubini Enterprises, Inc.
What sets Broda apart from other medical mobility companies?
Broda wheelchairs are ergonomic, adaptable, adjustable, and—above all—comfortable.
They redistribute pressure, increase sitting tolerance, and enhance safety and ease for both users and their caregivers.
Our extensive line of in-demand, cost-effective wheelchairs deliver massive benefits to users across the long-term and complex care spectrum.
Broda began in 1981 with the guiding principle that comfort is as essential as safety and mobility when it comes to holistic seating solutions.
Kim Cherubini puts it beautifully, explaining"
"Most people need these products at a time in their lives that is not the easiest or most comfortable. I believe Broda wheelchairs add to the quality of life for people who probably are going to have a hard time achieving that."

Kim Cherubini, Owner, Cherubini Enterprises, Inc.
The Broda team's unwavering commitment to quality and service uplifts and empowers everyone—from wheelchair users and their families to our supplies and distributers.
Interested In Joining Team Broda?
We depend on quality medical suppliers like the team at Cherubini Enterprises, Inc. Our dealers play a vital role in our mission–sharing the key benefits of Broda products with people who will benefit from them.
Together, we make a profound difference in people's lives.
Partnering with Broda, Cherubini Enterprises have exceeded their business goals, while delivering outstanding customer satisfaction and immense ROI. And they love helping their clients enjoy more comfortable, fulfilling lives.
We love to partner with DME businesses like Cherubini Enterprises because they share our commitment to help others and deliver the best the industry has to offer——so that we can improve real people's lives in meaningful ways.
Broda began with a simple goal—to be the change we want to see in the durable medical equipment industry.
Become a Broda Dealer
We believe our products change lives for the better. Kim and Jim Cherubini can attest. That is why they remain loyal Broda dealers.
If you're interested in joining us, reach out to learn about becoming a Broda dealer.
We make it easy for you to proudly offer your customers the comfortable, safe mobility solutions they deserve to live life to the fullest.

Ready to get started? Click here to learn everything you need as a Broda dealer