Active Seating for Autism
The Broda Aspire Pediatric Glider and Tranquille Adult Glider provide active, yet calming seating for those with autism or autism spectrum disorder (ASDs). The gentle, rhythmic motion helps to focus the user and reduce anxiety. This can lead to improved concentration and success in school. The glider is also auto-locking, which makes it safe for children to use independently. With the Broda Aspire Pediatric Glider, parents and caregivers can provide their child with a tool that will help them succeed in life.
These chairs also feature the Broda Comfort Tension Seating® system that contours to the body for an individualized fit. The soft foam padding and supportive design gently cradle each child providing a comforting effect.
A Real-Life Broda Success Story for Cognitive Disabilities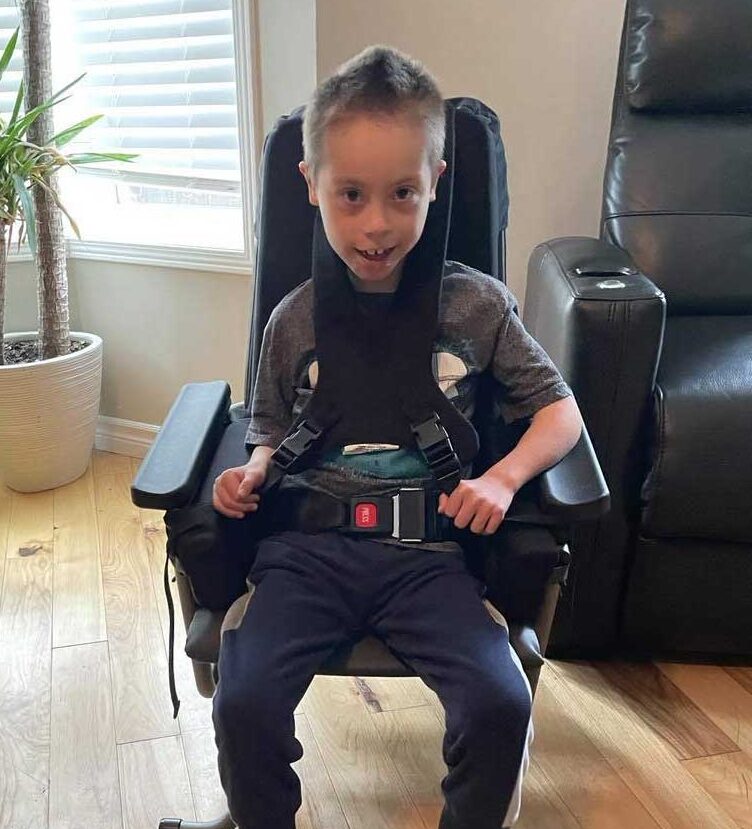 Take the case of Liam, a real-life Broda use. He has experienced amazing success with the Aspire Pediatric Glider. Since using the Aspire, Liam has made great strides in overcoming Down syndrome, cerebral palsy, and congenital heart disease.
Developmental & Cognitive Disabilities
Children and adults with developmental delays and intellectual disabilities can increase their ability to learn and engage in activities with Broda glider chairs. Designed for active or calming seating, the Aspire and Tranquille gliders provide stimulation when desired. They can also be used to soothe the user when they need a break. Research has shown that rocking may result in a decrease in stereotypical behavior.1 If you are looking for an entertaining solution for a restless child or teen with developmental delays, Broda gliders are an excellent solution.
Cleaning & Sanitation Made Easy
All Broda glider cushions and components are fluid-resistant. Because of this feature, they can be wiped clean in case of an accident. It's quick and simple to clean a glider after mealtime spillage, contagious illnesses, and any other mess. Your user's manual will even come with cleaning tips for your specific glider model. Seeing that Broda gliders are so easily cleaned, they are perfect for educational settings and for young children.
Durable & High Quality
We make our gliders with strong, high-quality materials that can withstand destructive behaviors as well as everyday wear and tear. We build the glider frame using 16-gague, powder-coated tubular steel. As a result, Broda gliders can outlast any other active seating solution. Additionally, Broda offers an industry-leading 10-year frame warranty and a 2-year warranty on all glider parts. Together with our durable manufacturing, our warranty will give you confidence that your Broda glider will last for as long as you need it, with minimal repairs.
Our Recommendations for You
See all Behavioral Chairs
References
Lauren Breslin, Nichole Guerra, Lori Ganz, David Ervin; Clinical Utility of Multisensory Environments for People With Intellectual and Developmental Disabilities: A Scoping Review. American Journal of Occupational Therapy. January/February 2020, Vol. 74(1), 7401205060p1–7401205060p12. doi: https://doi.org/10.5014/ajot.2020.037267